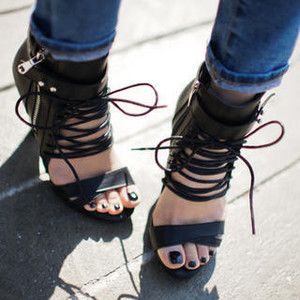 LACE UP SANDALS by Korean designer 45SEVEN lovely right?
You see those beautiful lace up heels in the above photo? Those are Giuseppe Zanotti lace up heels for $1195.00! Unless you are one of the Kardashians or anyone who makes millions a year, you can afford these sandals like nobody's business. But if you are like me, just an average girl who makes less than 100k a year, owning these shoes are a dream. My research began over one month ago when I saw this photo. Then it began...Lace up heels. My newest obsession. So I did more research and found these on ZARA for $129.99.
I thought $129.99 is a realistic price. But I was still determined to find some lace up heels for lower than $100.
And then I found these cute one's below..
I Found them here on AMAZON for only $24.99 in white, brown, & black!
It's still a little cold in California. So wearing sandals just yet isn't very smart. But once it warms up more (hopefully soon!) You'll be seeing me wearing a lot of lace up heels with skirts and pants.
I'm subscribed to Carlibybel on Youtube (known as demonstrating amazing make-up tutorials). In this youtube clip, she actually talks about lace up heels as a new trend for spring 2013. I think she beautiful and inspiring. Check out her fashion video below.