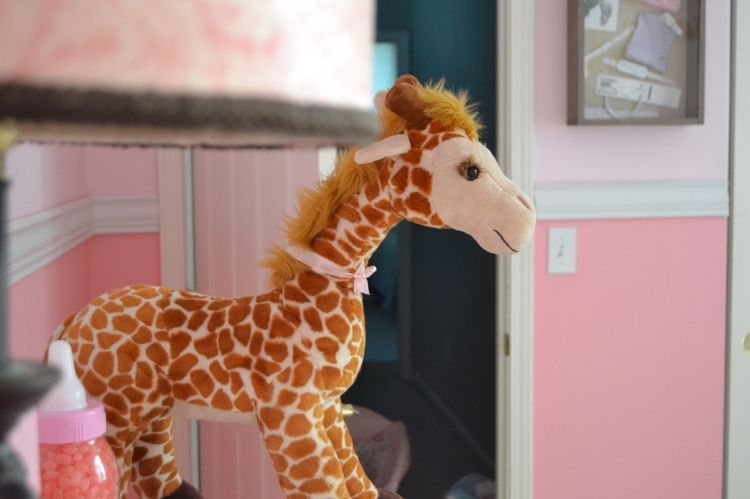 I am so happy to finally be sharing photo's of Melanie's Nursery. And of course so much has happened since my last post in July. Melanie Renée was born on August 7th, 2014 weighing 6 pounds 4 ounces and 18 1/2 inches long. She arrived at 4:02 pm. And then, my life was complete. So now she is here in this world, growing, learning, developing, and receiving so much LOVE from her family. We absolutely LOVE her!
Our little "Melly" (what we nicknamed her) at 4 weeks old. So cute right?!?

Melanie has inspired me so much since the day I found out I was pregnant. Since my pregnancy and her birth, I have been avidly sewing baby clothes, taking photo's with my new Nikon, and learning to be the best mom I can possibly be. And now I have also been inspired to change the content of my blog to a more "lifestyle" way of living the mommy life. To transition, I've decided to rename the blog "The Mommy in P I N K." I can now express the new mommy in me and continue blogging about my love for fashion but also my passion for sewing & designing.

Now, with that said, I am gladly to be sharing special pieces of my daughters room. My photography skills are not near perfect but I truly try. And not to mention, it was a lot of fun getting down on my knees and tummy taking photos from various angles of her room. Every piece in her room is special in it's own way. And I hope someday when she is older, she can look back on these photos and appreciate the fact that I've displayed what was really special to me when she was born.
I purchased this custom banner on ETSY before she was born. It was used as a photo prop for my maternity photo's and her baby shower.

I wanted to be crafty and make her wall art while I was pregnant. Believe it or not, I purchased these frames from the dollar tree and spray painted them gold! (haha) I purchased the printed paper at Michaels art's and craft. The gold heart was thick cardstock paper also purchased from Michael's and spray painted gold. And here was the end result.

I purchased this little newborn dress at Target. She wore it in some photos I took with my Nikon. Now it's just so tiny you can't help but say "awww" when you see it on a hanger.

A recent headband I made for little Melly. I've been making tons of these. Really easy and cute.
First pair of baby Moccs! Had to get them in Gold of course.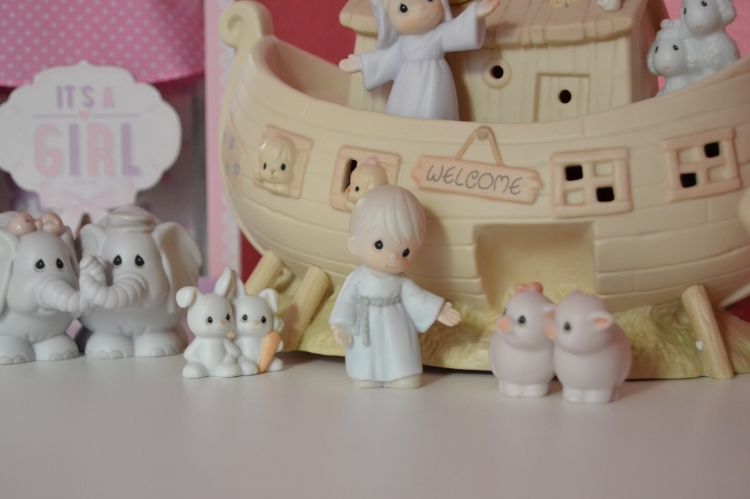 My Mom bought this precious moments Noah's Ark figurine set. It's so precious and sweet. It lights up like a night light. It's perfect for the nursery.

I made these table center pieces for Melanie's Baby Shower. I had to save one for her room.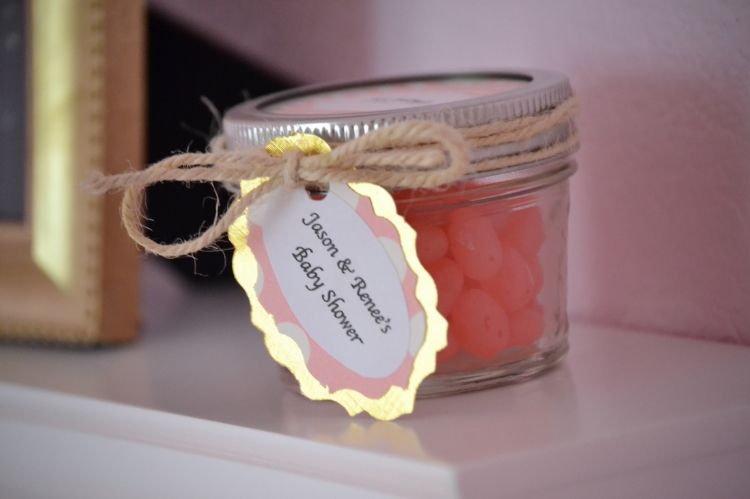 Another piece from her Baby Shower. I filled up small mason jars with pink jelly beans as a favor for my guest. They loved it especially the kiddos who came.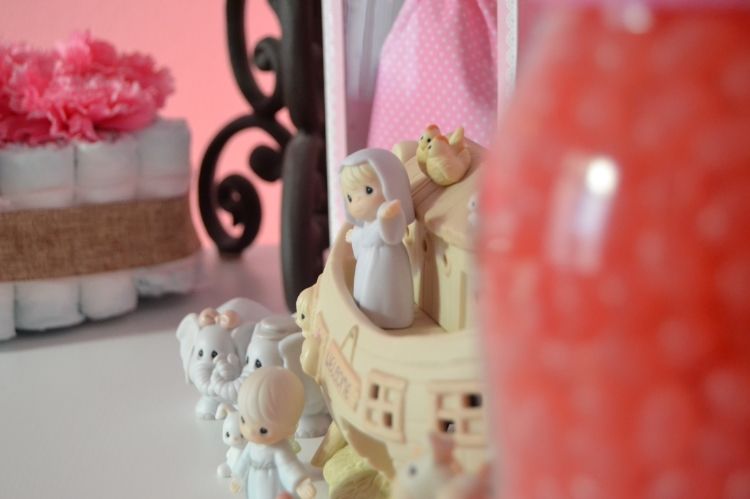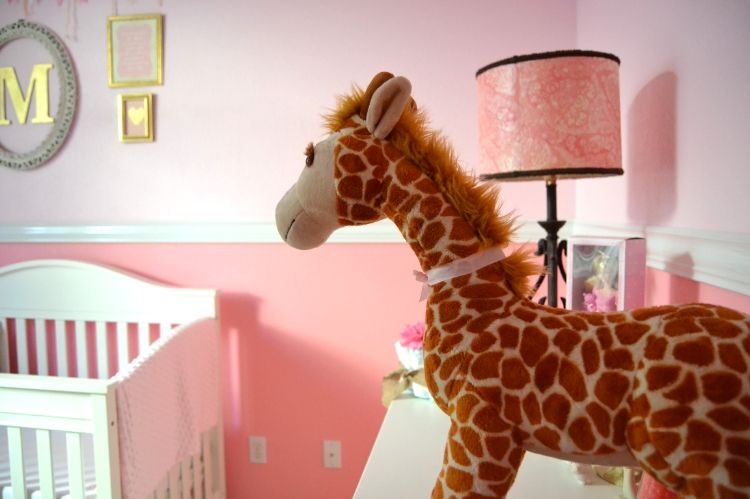 The Giraffe! This was the first item that was purchased for her nursery. My mom bought it for Melanie when I was only 14 weeks pregnant. It was a mystery then if I was having a boy or a girl.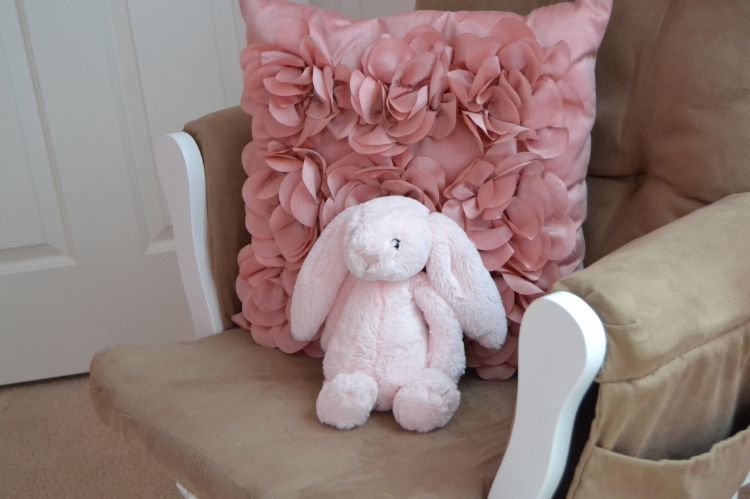 When Melanie was born, I was told I had to stay in the for hospital 3 days since I developed a fever during her birth. My parents bought this pink bunny with balloons for me and Melanie. The bunny makes jingle sounds if you shake it.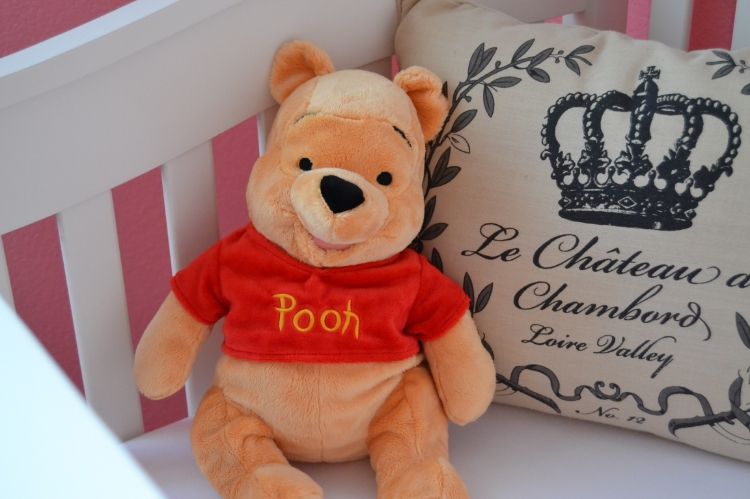 Jason's Aunt sent us Winnie the Pooh about one month after Melanie was born. Who doesn't love Pooh bear? He's adorable.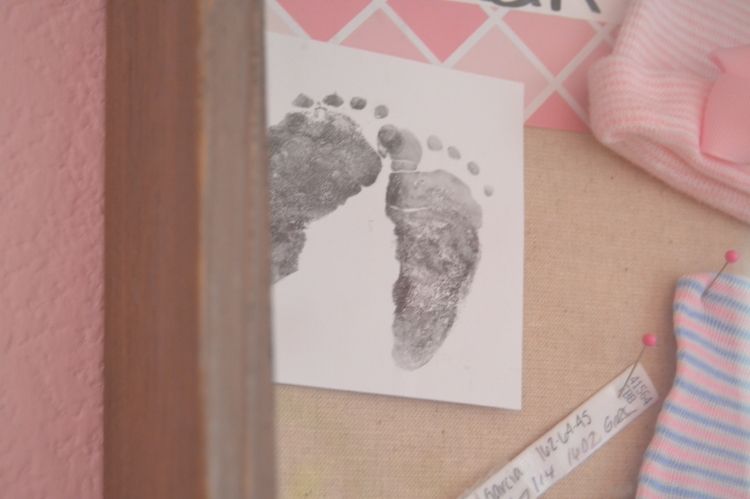 This is probably the most important item to me in her nursery. I filled the shadow box with Melanie's newborn beanie's, blood pressure cuff, wrist bands from the hospital, and foot print's from the day she was born. When I gave birth to Melanie, it was the most exciting, happiest, stressful, and painful experience I ever went through in my life (YES all that at once!). However when the birthing experience was over, I was so complete. I had to save everything from that day so I can truly remember what I went through for my beautiful baby girl.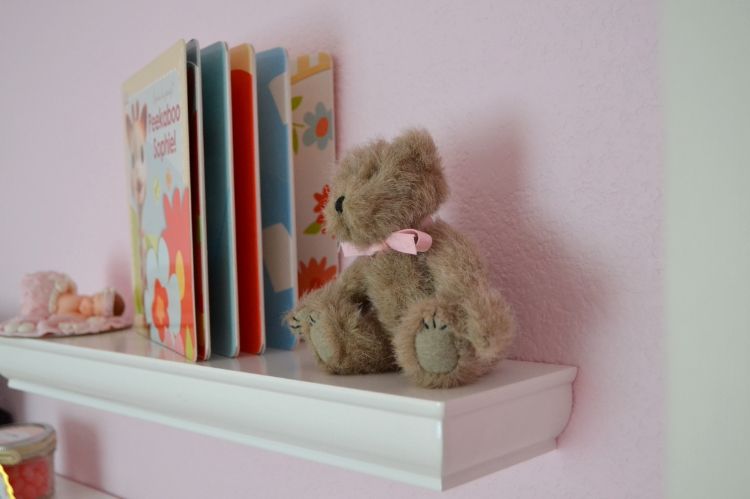 I used this little teddy bear as a prop in my maternity photos.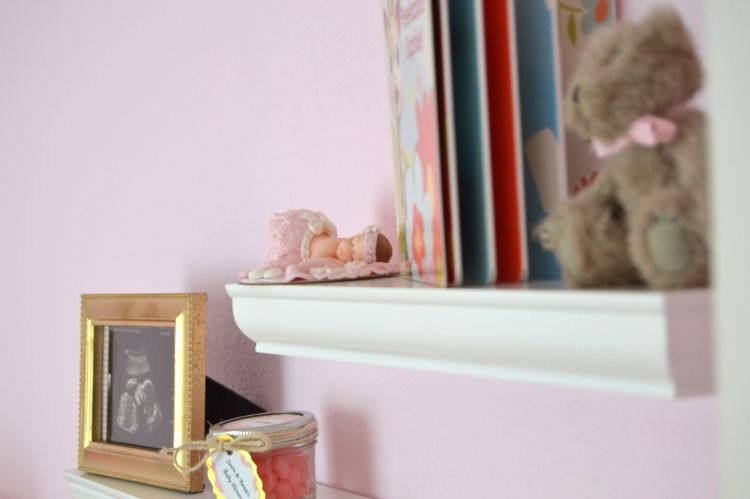 My mom picked out this cake topper for my baby shower cake. The baby was handmade and it looks just like our Melly.

A glimpse of her closet. I hang up all her bigger clothes and fold her wearable clothes for now.

A handmade shabby chic banner I made. I used gold glitter yarn for gold accents. Those are also handmade gold fabric roses.

The crib was a gift from Jason's parents. I purchased the wooden "M" from Hobby Lobby and spray painted it gold as well. The antique white frame the "M" is in was purchased from a boutique in Auburn California.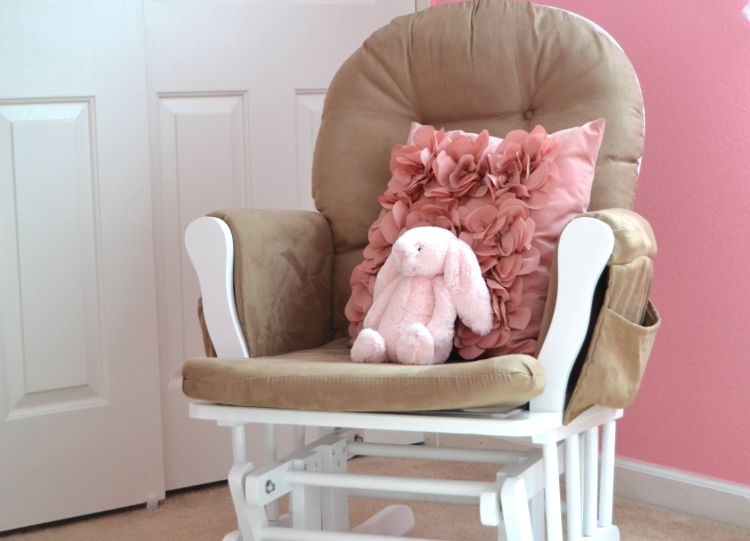 This rocking chair is perfect for those sleep less nights. I've sat in this chair and sang "The Itsy Bitsy Spider" to her in a slow tune and she has fallen asleep. But once I've got up from the chair, she opened her eyes…Awake! Not sleeping lol those were challenging nights I tell you.

And finally a last look at her custom burlap banner over the closet
__________________________________________________________
White Rocking Chair || Target
White Crib || Target
White Dresser Chest || IKEA
White floating Shelves || Home Depot
Gold Moccasins || Little Pistols
Custom Burlap Banner || Buttons to Burlap
-Mommy Renée