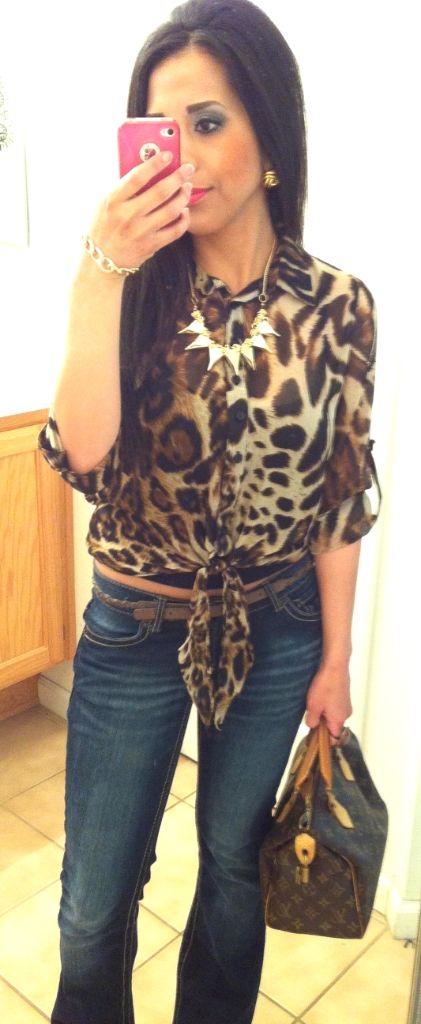 Lately I've had this animal print fever. Am I the only one? I see anything animal print on the rack and I think "Oh! I'm getting this!" haha. Today i'm wearing my new leopard print chiffon blouse with a pair of flair cut jeans. Whenever I wear my flare cut denims, I must wear wedges or anything with a heel. I'm very short (5 feet) so anything to boost up my height is great! lol
My boyfriend has been working so much overtime lately! I hardly get to see him :( Fortunately today we planned lunch at an awesome place called "Swabbies". "Swabbies" a pub & grill by the Sacramento River. In the summer, this place has live music in the late evenings. Last year they had an awesome Reggae band that performed (I remember it so well because Jason and I had so much fun that night). The temperature in Sacramento today is 65-70 degrees. It's a perfect day to eat out by the river.
Added a little edge look with a spike chain necklace..Where to purchase?

Spike Chain Necklace:Here for only 11.99

Sandal Wedges:Here for $70 @Aldo Shoes
I bought my leopard print blouse at the local Styles For Less but I could not seem to locate it on the online store. However, I did find this cheetah print blouse on Amazon (close enough!)

Cheetah Print Blouse:Here for only 12.99! Cheaper than what I purchased mine for!
Flare Cut Jeans:Here for $169.00 (7 For all Mankind Jeans...Great quality denim)