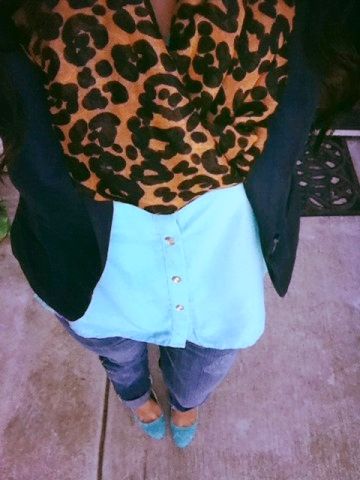 Today was my day off work and I ENJOYED it :) Jason and I went to the movies and saw "Olympus has Fallen" with Gerard Butler and it was really awesome! I'm so happy we picked this movie to see because there was a lot of action and dramatic effects..the movie had Jay and me "intense" the entire movie! Later we went for a walk in the park near by our house with Shyla (our husky) and Milo (our chihuahua). Shyla and Milo had the opportunity to bond and get along as friends which is rare for a big dog and a small chihuahua. When Milo and me first moved in with Shyla and Jay (my boyfriend), it was hard for Milo to adapt to Shyla. But now they get along a lot better than before. I LOVE my dogs by the way. Here's what I wore today...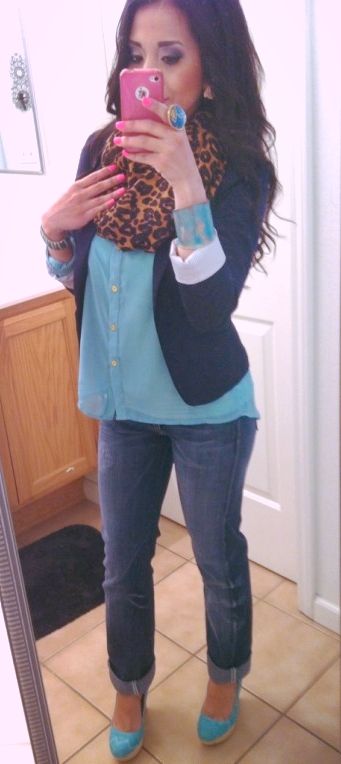 It's been a little windy lately in Sacramento and not as warm as a few days ago (in my previous outfit post I wore shorts!)
You can buy a turquoise chiffon blouse like mine at Forever 21 for $17.80
Purchase jeans like mine @ Forever as well for only $29.80
Leopard scarf can be purchased here for $17.99
Pair the three with any of your favorite blazers & lovely wedges and you've got an outfit like mine :-)
Don't forget to read my previous post about how to win my GIVEAWAY!