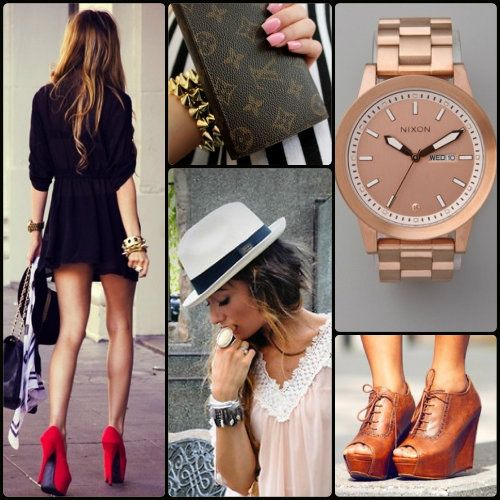 Here are a few of my wants for 2013...I'll start with a pair of big chunky red pumps (shown above) and a cute sexy black dress! Red pumps can be worn with anything black and have a very sexy classy look...I've been telling myself for the past year I would purchase an LV wallet but now is the time! A brown LV wallet can fit in any of my handbags and not show any stains (because of the color)...I'm liking the NIXON rose gold watch. This watch is simple and gorgeous (it's a must have for me!)... A fedora hat (white) great for summer and fall wear..and some new oxford wedges (can be worn with a summer dresses, leggings, or skinny pants)
My other half of the wish list for 2013....
A little white summer dress! (for a sweet-heart look)...Another product I just haven't purchased yet but tried on, is the Viva Glam Nicki Lipstick from MAC Cosmetics (I better get it now before they discontinue it!) For summer swim-wear, I WANT and NEED a fringe bikini (really HOT).....A pair of floral flats for summer...and finally an aztec pattern skirt...
There are MANY other items on my wish list but I don't want to overwhelm myself! I'm starting off with the simple wishes :)